Don't Be Left in the Cold!
Let us keep you warm this winter.
Heating
Trust our team at Hawley Air to keep your home warm and comfortable on those colder nights here in NC. Our HVAC professionals work with all makes and models of furnaces and heat pumps, so you can rely on us to help with any type of heating need you may have.
Cooling
Our high-efficiency air conditioners can bring plenty of comfort to your Clemmons home when the summer temperatures start to soar. Our cooling experts at Hawley Air work with all makes and models of air conditioners, and we offer 24/7 emergency repair services.
Maintenance
Per Benjamin Franklin, "An ounce of prevention is worth a pound of cure." Maintaining your home's system wards off emergency situations and costly repairs while extending your equipment's life. Take the time and money to perform general maintenance on a regular basis.
Hawley Air
Hawley Air Heating and Cooling is your full-service residential and commercial heating and air conditioning service company that also specializes in air quality products and services. Hawley Air Heating and Cooling is your fully licensed, bonded, and insured to provide our Piedmont Triad customers with services relating to furnaces, heating, and air conditioning. Our heating and air conditioning service company offers sales, installation, and repair for any number of heating systems, cooling systems, air quality units, and parts.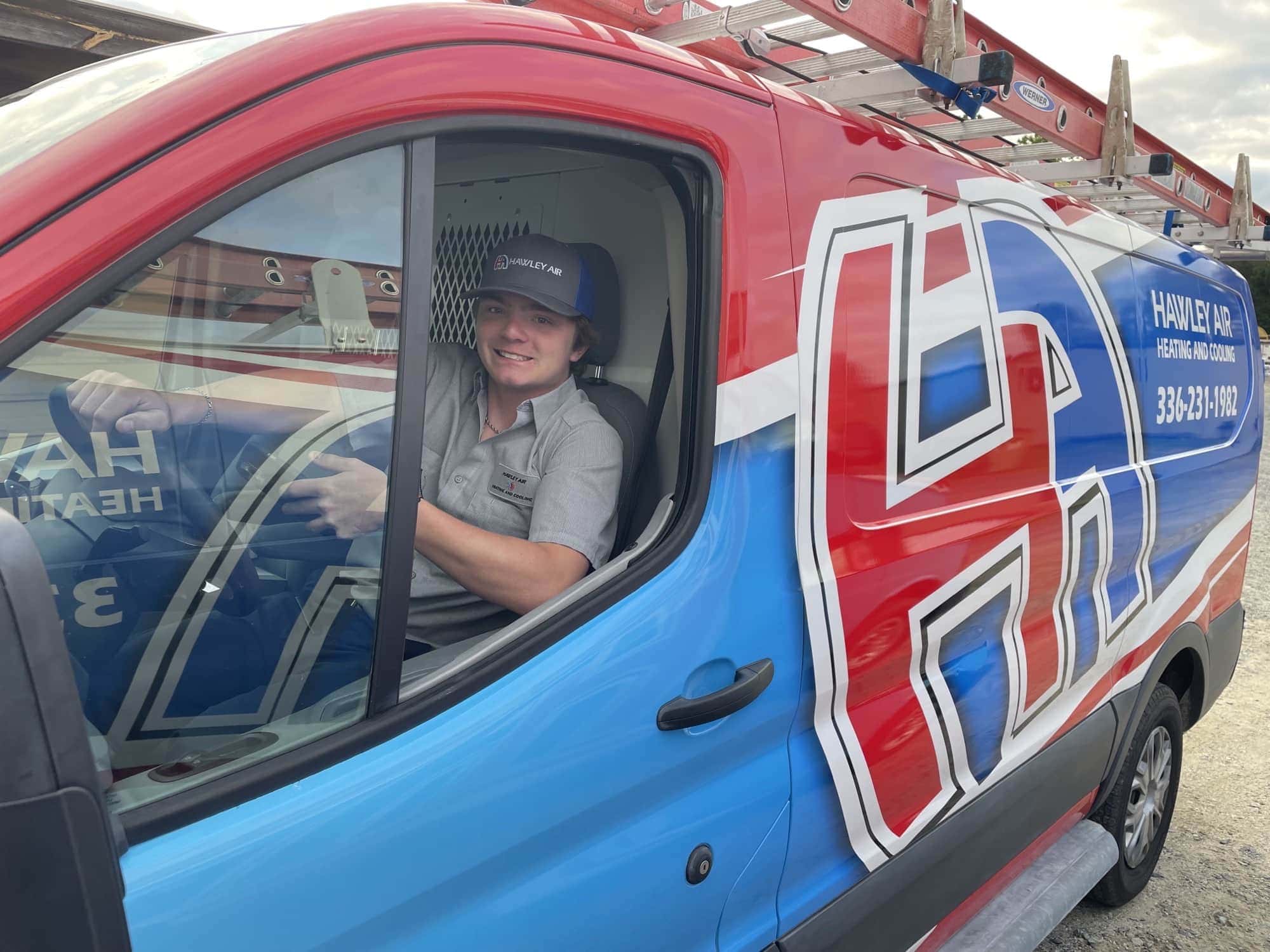 Customer Reviews
We love hearing from our customers! If you've had us work on your HVAC system we would love to hear from you too.
Heat Pump Repair in Highpoint, NC 27265
"Zach is friendly and professional"
- Jerry F.
Gas Furnace Maintenance in Kernersville, NC 27051
"Great service. Professional and a very informative. A courteous technician"
- Hilda M.
Gas Furnace Repair in Lexington, NC 27292
We had our heating unit die, of course during cold weather, and had to have completely replaced. Workers Sean & Joe came our first thing at approximately 8:30am. And spent all morning & part of the afternoon taking out the broken unit & putting in a new one. WE HAVE HEAT AGAIN!!! They were very polite, knew what they were doing, and explained things to me & my family to help us understand what to do if anything problems arose. They were very nice & did everything that they needed to do in the same visit. Just glad landlord pays the bill. I will recommend Hawley Air for your heating problems, whether simple, or like us a complete replacement of the unit. They are trustworthy & do a fantastic, complete, excellent job.
- Pamela K.
Our Most Recent Articles...
On most thermostats, you can choose between On or Auto for your fan setting.
On tells your HVAC unit to run its fans all the time, even when the air isn't being heated or cooled.
Read More